Dumpling Mold Maker
---
Hurry, low quantity!Hurry! – Only 9 left in stock.
DESCRIPTION
WOULD YOU LIKE TO ENRICH YOUR RECIPE WITH NEW FOODS?
Homemade dumplings are the best choice for your family. It can, however, become stressful and time-consuming when you have to fill the dumplings one by one. This mold will help you make more dumplings within a short time. It is the best home item for making fast, well-distributed and tightly sealed dumplings.
This DIY tool is a good handy equipment to make your dumplings effortlessly and quickly. You can use it for making dumplings, chaos, Ravioli Pelmeni, Chao, French pastry, and fruit pies. The product has 19 holes to help you make perfect dumplings in just minutes.
Features
This dumpling mold is dishwasher safe saving you the struggle to clean it manually. It also makes it easier to make many dumplings within a very short time. It is not complicated to use and can be used by anyone. You are just required to fill, fold, and press to seal a packet. You can even use this tool to train children on making different molds as it is easy to learn

It is made of food-grade non-toxic ABS material which can last you years and is proven to be safe for human use. The material is harmless and non-stick with no peculiar smell and trustworthiness. You will enjoy good services for your money with this product. The product is guaranteed for frequent use and convenient for your kitchen use.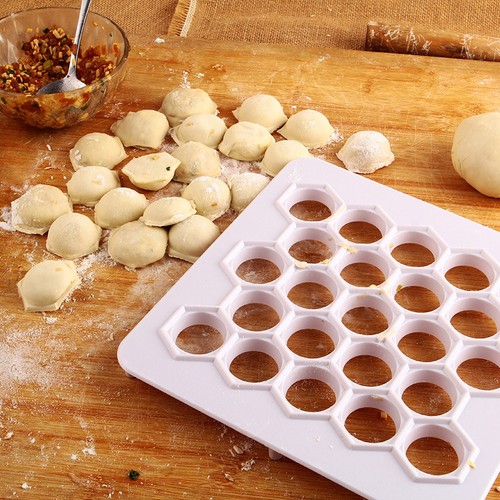 You don't have to waste any more time making dumplings time making! With this DIY tool, you can make as many dumplings you want as possible to meet your whole family's needs while keeping your kitchen clean and tidy.

This mold is not only used for dumplings but also for creating a variety of delicious homemade appetizers, meals, and desserts. You can use it to make a variety of pasta: sweet or savory pasta stuffed with meat, vegetables, jam, peanut cream, or nuts.

How to use:
Take your kneaded dough and roll it to be a little larger than the dumplings of dough

Sprinkle a little amount of dough on the dumplings, and then spread the dough on top of the dumplings

With your rolling pin, roll back and forth

Put the fillings, and then prepare another dumpling fillings top cover
Take a rolling pin to roll back and forth on top of the dumplings

Peel dumplings into a pot
Specifications
Material: Food-grade ABS material
Color: White
Size:  20.8 by 20.8 by 2.2cm
Hole size: 2.9 by 2.9cm
Feature: 100% new and high quality
Type: Baking and pastry tool
Package Weight: 0.115kg
PACKAGE INCLUDES:
You may also like these products